The Unofficial Lost and Found Fan Page
So here we go again. I am once again using my HTML skills for yet another useless site! When will I ever learn? No, I'm just joking! Lost and Found totally rocks! I discovered them at an ELCA National Youth Gathering in St. Louis, MO! I attended the first week (June 28-July 2). One time, I was no more than three feet away from Michael D. Bridges!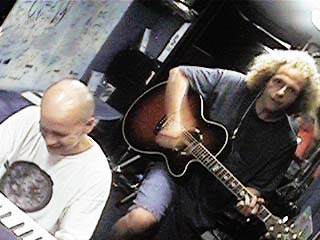 George Baum and Michael D. Bridges

Who are Lost and Found? What are they doing on Fan Page site? Why did you even come here? Well, if you came here to find out about the band Lost and Found, then you came to the right place! If you came to ask about lost and found items, you are in the WRONG place! You are also in the WRONG place if you are looking for information on the bluegrass band.


(For those of you who can't figure it out, click the graphic above to go to the official Lost and Found website.)


These guys are SOOO AWESOME!. It would be a DREAM COME TRUE to work with these guys. I only have a ton of lyrics written, but am not a composer. I don't do things for money. I do things because I enjoy them! I'd love to have my lyrics and their music put together! I have to face the fact that some dreams don't come true.


Don't all fan sites have a poll? Well, this one will, though it may not make much sense for the fan site. It only stems from ... hmmm, I'm not sure what you'd call it ... but from talking with my best net friend. We've been having fun with this topic, so the poll gets to be based on it as well!




Sign My Guestbook
View My Guestbook
Visit these other web sites:
If you guessed that I made all of the above web pages, you guessed correctly. There are many more besides these.